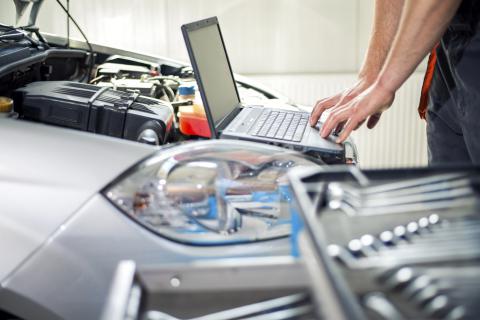 Regardless of size every automotive shop is built on trust and the quality of their service. Establishing reliability and consistency is extremely important when running an auto repair shop. That's where Mitchell1 comes in. Mitchell 1 has been a leader in providing information solutions that simplify everyday tasks for automotive professionals — helping make their jobs easier with the most up to date information on the market. TeamWorks™, the integrated family of Mitchell 1 software-based solutions, is divided into three core components: and then
Repair Information — ProDemand includes the information technicians need to service and repair nearly every domestic and import car and light truck on the road. With ProDemand, factory specifications and procedures, computer diagnostics, electrical wiring diagrams and detailed illustrations are just a click away — quick and easy to find and retrieve.
Estimating — ProDemand Estimator gives shop managers and service writer's quick access to the labor times and OEM parts prices they need to build accurate estimates.
Management Tools —Manager SE is a complete business management solution that tracks shop activity from estimate to invoice, and includes all the management tools that shop owners need to ensure their businesses run profitably.
Adding to the power of TeamWorks is a robust collection of key post-warranty auto parts catalogs integrated via ManagerPlus SE, including ACDelco, CARQUEST, NAPA, O'Reilly, WORLDPAC, and more. These catalogs help shops order parts electronically from their preferred vendors, which saves time and ensures the right parts are delivered the first time.